Rentapen Inc., a 3D design services company and tooling components manufacturer helped get the word out other about manufacturing careers on Wisconsin's Manufacturing Day.
On October 5th 2012, Rentapen opened its doors for tours as part of a big effort by the Waukesha Area Business Alliance, Dream It Do It, and area manufacturers. The effort was to show young people and those that influence them about the career opportunities available in manufacturing.
Manufacturing supports millions of jobs in the US. What Rentapen's tour participants discovered during their visit was that Rentapen was not only a manufacturer of tooling components, but also an engineering services company.
Manufacturing has an aging workforce and they are seeking to start training skilled machinists as the boomers retire. Engineers will also be retiring soon. It is predicted that 40% of the nation's engineers will retire in the next 7 years. "More students who have an interest in mechanical things need to be encouraged to take math and be directed toward careers in Engineering and Machining," said Susan Straley, President of Rentapen.
Machine Design Engineers and Product Design Engineers drive innovation. Manufacturers account for 70% of all private sectors R&D.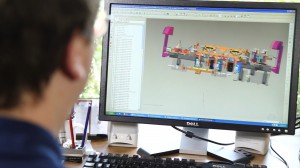 Rentapen first started out as a one man mechanical engineering services company, founded by George Straley. Now Rentapen has five members in their Engineering team, including: an Engineering Manager, Chief Engineer, Mechanical Designer, CAD Dafter and a CAD Drafting Intern. Each engineer has a different skill set and level of knowledge. All members of the Engineering team work together designing weld and assembly fixtures for Rentapen's customers.
Rentapen's main specialty is weld fixture design. They can design a manual or robotic welding fixtures based on the customer's needs. Rentapen helps manufacturers that have parts that need to be welded together during production, for example, automotive, agricultural, or recreational vehicles.
Rentapen's Engineering Team utilizes PRO/ENGINEER and Solidworks for their machine design process.
Rentapen is a small company, but has the benefit of being a company with multiple product areas. For instance, when the engineering department slows down, employees like Emily Young the CAD Drafting Intern can go help out in Rentapen's shop and assemble and package Rentapen's custom and standard precision shims and shim packs.