---
There are 4 ways you can order Rentapen's RAPid Shims™
1. RAPid Tooling Component Shims, Standard Shims from website or catalog
2. Custom Shim Shapes
3. Shims that match those that are made by another manufacturer
4. Component shims that fit under some other purchased component
1. RAPid Tooling Component Shims, Rentapen's Standard Shims from website or catalog

Find the shim shapes you are looking for in the catalog or from Order 3D Models page
Choose the one with the dimensions that you want to modify. Then choose the material and thicknesses you want.
Or
Go to the Order 3D Models page
Create the shim.
Get part number to incorporate into your design.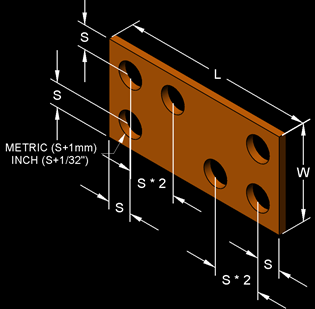 Send us a drawing (We can accept DXF, DWG and versions of AutoCAD 2000)
We can also re-draw the drawing into a file format if you prefer.
3. Shims that match those that are made by another manufacturer, for example Douglas Stamping Co. and Misumi
You can use any shim number from any manufacturer which you would like to match.
Provide us with the manufacturer's name and use their shim number (without thickness designations) to build the shim number.
NAAMS, GM, Ford, Douglas Stamping Company, Precision Brands
4. Component shims that fit under some other purchased component from Essentra, Carr Lane, or Jergens.
For example you can use the number for Jergens Flat Foot and add the quantity and thickness that you want.
See How Compatible RAPid Shims Are