---
RAPid Shims™ and Shim Packs are used for positioning and locating Tooling Components and Dies.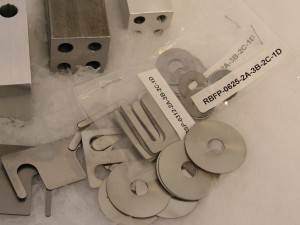 Mild steel shims can be cut from .001″ to 0.188″ thick
Stainless steel shims can be cut from .001″ to 0.125″ thick
Adjustment shims are used to fine-tune the location of your tooling components. (learn more)
Die-sharpening shims are placed behind the shim when the face of the die is machined down to sharpen it.  Keeping the surface of the die in the precise same location during the stamping, cutting, or forming process.
"I'm so glad Eric Wagner at EL Simith told us about the shim packs. We love those things. Saves us tons of time…. you have all the right to brag about your business, I would."
Tom Crook, Tool & Die Supervisor, Orchid Monroe, Madison, WI.
Custom Shims per your Drawing, DXF, IGES or AutoCAD file.
You will save time and money with RAPid Shims™.
We are the Shim King.  We can get your shims quoted, cut, and shipped to you faster than most of the competition can get you a quote.  Our Automated RAPid Order Processing System™ is fast and accurate.  Saving YOU headaches caused by your parts not arriving on time.
You are able to order Custom and Standard Shim Shapes.  RAPid Shims™ are Custom Packaged / Labeled and Deburred, ready to use.
(Holes or Slots or Custom shims.)
Rentapen is the SHIM KING!
Why is Rentapen the SHIM KING? Watch this!
RTC shims from our catalog
CUSTOM shims that you provide a drawing for
Shims that MATCH those that are made by someone else, like Douglas Stamping Co. and Misumi
COMPONENT shims that fit under some other purchased component, from Essentra, Carr Lane, Jergens
Order a 3D Model of a standard shim pack!
Use the website to create the part number you need by entering in the dimensions and quantity of each thickness you desire.
Save it to your library.
Make the parameter modifications you need to.
Plop it into your CAD assembly.  The designer's job is done!
——————————————————————————–