Rentapen, a manufacturer of weld fixture components, is taking part in Wisconsin's Manufacturing Month in October.
In Wisconsin, October has been selected as Manufacturing Month and October 5th is National Manufacturing Day. Rentapen was invited by the Waukesha County Business Alliance and the Waukesha County Manufacturing Alliance to take advantage of the opportunity to network with students, parents and local school districts in an effort to change the misperceptions about careers in the manufacturing industry. It is an opportunity to educate students and parents about exciting careers that are available in manufacturing in Waukesha County.
Rentapen is a machine design and build company that manufacturers weld fixture components, known as RAPid Tooling Components™. These are versatile components which consist of blocks, plates, clamp risers and shims. Rentapen manufacturers RAPid Tooling Components™ because it saves engineering and build time for manufacturing companies like John Deere and Case New Holland.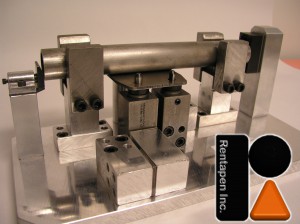 Rentapen wanted to participate in the National Manufacturing Day because it ties into their mission, which states that Rentapen provides jobs, training, and opportunities for people who work together to help manufacturers reduce costs of tooling to make their products.
In the past two months Rentapen has welcomed three new employees. First was a new mechanical engineer, Randy McAloon, who joined the engineering team helping out with design a weld fixtures. Then Rentapen welcomed two interns from Waukesha County Technical College, John Ward and Emily Young. Both of which help out in the engineering department doing CAD Drafting and in the factory, assembling and packaging Rentapen's metal cut shims and shim packs.
On Friday October 5th, Rentapen will open their doors to students, parents, and school districts to come tour their facility in Waukesha. There are three scheduled tour times available to sign up for: 1:00-1:45 p.m., 1:45-2:30 p.m., and 2:30-3:15. Please register in advance by Wednesday October 3rd, to Susan Straley. Susan Staley is the President and Owner of Rentapen Inc. she can be reached at 262.542.8891.