In this lesson on Jig or Weld Fixture Design we are going to discuss round tubing. 
I can think of three ways to locate a round tube off the top of my head.  That doesn't mean they are the only ways.  You might be able to think of other ways.  So share any ideas you may have down in the comments section, or email me at straley at Rentapen.com and attach pictures or jpgs so I can share them in future blogs.
V-BLOCKS
We often use v-blocks to hold round rods or tubes.  A v-block is simply a block with a v cut into it.
If I need to design in adjustment with shims, I often will sketch on paper a rough plan. 
If I am able to use purchased products, like RAPid Tooling Components to locate the V-block, I will sit with the catalog next to me and decide which blocks will work so I can pull those models from the library. 
A sketch helps me think about which blocks will have the slip fit dowels and the tapped holes and which ones will have the press fit and the counter bores. 
This video kind of explains what I have sketched. 
 Another popular way to hold a tube or rod in place in a jig or fixture is with a goal post.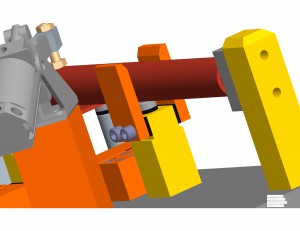 Consider the material that the tube is made of and how much use the fixture will get when deciding what material the plates should be.  The plates above are RAPid Tooling Components™.   These plates come in hardened steel (4140 PH) and Ampco 18.  Remember that weld splatter sticks to like metal.   Aluminum sticks to aluminum, steel to steel, etc.   So if you are welding steel, the Ampco Bronze may be a better choice for the plates of the goal posts. 
Sometimes the best way to hold a tube is with a pin that is inserted into the center of the tube.  The best method depends on the application, the size and length of the tube,  and your customer's preferences
 Here is a little video that goes over some of the ways to locate a round tube or rod.
What have YOU done in the past that worked that I have not discussed here?