---
Lean Manufacturers Discover Time and Cost Savings in Their Product-Holding Fixtures With Clamp Risers by Rentapen
In the beginning of April, 2013 Rentapen Inc. launched new website pages for their line of clamp risers and spacers.  The clamp risers are made specifically for different brands of clamps including: Wolverine, Carr Lane, REID, De-Sta-Co, TE-CO, All American, and Jergens.   Each riser or spacer is tapped and drilled for mounting the designated clamp and uses counter bored holes for mounting the riser or spacer to the fixture or jig.
Rentapen's design team has been designing and building weld fixtures for over 35 years. They realized they were designing the same clamp risers over and over again.  So Rentapen developed what is now called RAPid Risers™,  a line of tooling components that hold all of the finest brands of part holding clamps.  These standardized yet versatile risers save manufacturers time and money when it comes to the design and build process.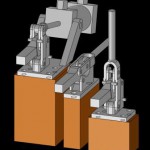 3D CAD Models of the risers can be downloaded from Rentapen's website along with informational PDFs that detail the design of the RAPid Riser™.
 "By focusing our processes and skilled talent on what we do well, we free-up our customers time, energy, and talent to be more powerful and productive with what they do well," said Susan Straley,  President of Rentapen.  "That gives them peace of mind and contributes to their success."
If a designer created a clamp riser from scratch, like Rentapen and all other machine tooling design companies used to do, they would have to go through a timely and expensive process that includes: designing the part; detailing; checking; ordering material; writing the CNC code; creating the part and finally inspecting the part.
This entire process takes about 77 minutes. Manufacturers are now able to download the 3D model from Rentapen's website, save the model to their library, put the riser into their design, and order the block.   Once the model is in the company's CAD library, the process approximately takes 4 minutes.  Rentapen's RAPid Riser™ is saving the manufacturers as much as 73 minutes in design and build time.
 "The RAPid Risers™ are just another way for the fixture builder to save time and money on the design and build of weld fixtures or any other type of fixture," said, Steve Pautz, Product manager at E.L. Simeth Co. a distributor of the clamp risers.  "The Clamp Risers is just one part of this unique design system that really works. E.L. Simeth Company, as the distributor for this line, has customers that use the complete line so we know that it works very well,"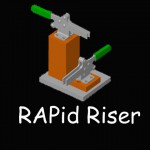 Rapid Tooling Components™ reduce the design cost of the fixture by eliminating the need to design, detail and check similar parts over and over again. Three dimensional computer models are provided by Rentapen Inc. that customers can use to incorporate into their designs.  These modular components are the new standard in weld jig and assembly fixture design.
Rentapen Inc., is the weld fixture specialist, and is home of RAPid Tooling Components. Rentapen Inc. has been providing machine tool design services to manufactures since 1976.  A Certified Woman Owned Business and owns RAPid Tooling Components™. For more information about Rentapen Inc., please call 262-542-8891.