---
Machine Tool Designer — Weld Fixture Design –  (Waukesha,WI)
Machine Tooling Designer
Pro/ENGINEER CAD
We're growing and you can help!  Rentapen Inc. –  The Weld Fixture Specialist — is seeking a Machine Designer with a passion for excellence and an attention to detail to join our team and grow with us.
Join a small, enthusiastic team that works to save customers money through excellence in Weld Fixture (Jig) Design & Build.  At Rentapen your fact-finding and problem-solving will be appreciated and well-rewarded.  There is plenty of opportunity for personal and career growth and on-going learning.
Rentapen Inc. is growing!  A Top 10 Business in the Waukesha Area in 2012, we need your help to fulfill our vision to become the premier provider of weld fixture tooling for manufacturers in the USA.  We're looking for a special person whose attention to detail and accuracy is very important.  A person who has a nice balance between creativity and focused organization.  Someone who enjoys helping customers and team members, has good communication skills, a good listener, and a real ability to learn quickly to concept weld fixture designs.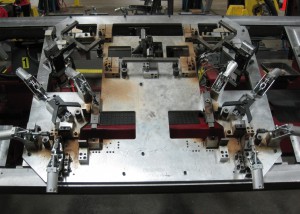 Candidates WILL BE TESTED in Pro/ENGINEER and basic drafting knowledge.  Wow us with your ability and skill!
Your role will involve learning and then handling the conception and design of weld fixtures and guiding and teaching CAD Drafters and interns as they learn.  Only those with Pro/E or Solidworks will be considered for this opportunity, unless you are already highly experienced in weld fixture design.
People describe you as analytical, trustworthy, optimistic, organized and patient – with a quick smile!  You see yourself as a self-starter and persistent, creative but with a methodical approach to work.
You've earned a 2 or 4 year college degree in mechanical design.  You are proficient with Pro/ENGINEER or Solidworks, Windows and Microsoft Office, including Word, Excel  and Outlook.
This is a full-time position.  Our office is in the fun and fast-growing city of Waukesha, WI.
Wages: Depending on Experience $15-23/hour
Benefits: Vacations, Holidays, Direct Deposit, Health Insurance, Education Reimbursement, Flex-time, Small friendly office, casual dress code.
IF this sounds like YOU –
IF you're ready for a the fun of challenge and change –
IF you have the drive to learn and grow with us –
Send your resume today to hr-rentapen at rentapen dot com or
FAX (262)542-8892
Compensation: $15-23/hour, Depending on Experience
Principals only. Recruiters please don't contact this job poster.
Phone calls about this job are ok.