Rentapen Inc., the weld fixture specialists, has expanded their website to better explain their machine tooling components product line.
Since the launch of Rentapen's 3D Models download app on March 15, 2012, Rentapen has added five new pages to their website to help explain their RAPid Tooling Components™, including instructions on How To Order 3D Models.  
"Rentapen's 3D Models, of our RAPid Tooling Components™ are the perfect solution for any weld fixture designer that wants to become more efficient and create better fixtures," said Susan Straley, President of Rentapen Inc.
RAPid Tooling Components™ also known as "RTC" was developed by Rentapen Inc.'s design team in 2002. Rentapen Inc., created the RTC product line in response to their customers' need for dramatic reduction in the overall design, set-up, and build costs of weld tooling fixtures.  RAPid Tooling Components™ (RTC) reduce the design cost of a weld fixture by eliminating the need to design, detail and check similar parts over and over again. RAPid Tooling Components™ reduce the build costs of a fixture by reducing the time and material needed to program the CNC, create the part, and check the part.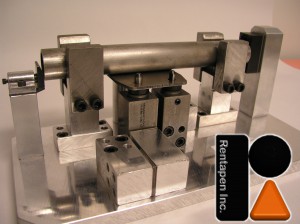 RAPid Tooling Components consists of RAPid Blocks™, RAPid Plates, RAPid Clamp Risers and RAPid Shims™. Rentapen's website makes it easier for CAD Drafters and Engineers to download the right Block, Plate, Riser, or Shim for their machine design needs.
RAPid Blocks™ are standard yet versatile parts that are used with locating pins, rest pads, jig feet, and other parts in a weld fixture. RAPid Blocks™ can be ordered with different hole configurations such as tapped holes, drilled and counter bored holes, press fit dowels, or slip fit dowels.
RAPid Plates™ are used in a variety of ways in a weld or assembly fixture. There are three types of plates. The RP00 is mostly used when a designer wants all parts to be mounted from above the base plate, making it easier to access fasteners to remove the fixture parts if needed in the future. RAPid Plates™ RP02 and RP03 are plates that help locate the product in a fixture.
RAPid Clamp Risers™ are used under name-brand clamps to lift them into place. The mounting holes in RAPid Clamp Risers™ are able to fit a wide variety of brands and sizes: Carr Lane, REID, De-Sta-Co, TE-CO, All American, and Jergens.
RAPid Shims™ are thin sheets of metal cut to size and used to finely adjust the location of parts in a weld fixture.  Rentapen offers steel shims, stainless steel shims, NAAMS shim shapes, Die sharpening shims, Adjustment shims, Reid Tool Supply shim shapes, Douglas shim shapes, and custom shapes and size shims.
Rentapen has added a page on their website that explains the four different ways manufacturers can order shims.
Rentapen's vision is to be the U.S. leader in machine design and tooling components. "We earn our customer's enthusiasm because we enjoy the opportunity to provide efficiency by design, expertise, and convenient service," said Susan Straley, President of Rentapen Inc.