Rentapen Inc., the weld fixture specialist, located in Waukesha, Wisconsin is expanding their engineering team.
Rentapen is a machine design company that is dedicated to reducing costs in weld fixtures for manufacturers.  Their team provides manufacturers with excellence in 3D Design and Build, RAPid Tooling Components™ and RAPid Shims™.
Rentapen's mission is to provide jobs, training, and opportunities for people who work together to help manufacturers reduce the costs of tooling to make their products.
Rentapen is growing and was voted a Top 10 Business in the Waukesha Area for 2012.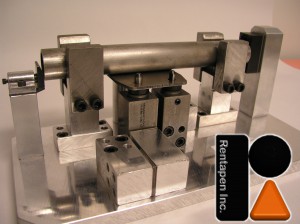 "We are expanding as part of our journey to become the premier cost saver and provider of weld fixture tooling for manufacturers in the USA," said Susan Straley, President at Rentapen Inc. "We're looking for a special person whose attention to detail and accuracy is of most importance. Who loves to help people, has well-developed communication skills, a good listener, and a real ability to concept fixture designs."
The role of the new engineer will involve the conception and design of weld fixtures and guiding and teaching CAD Drafters and interns as they learn.
"We are looking for someone who is a team player, you're goal-orientated, precise, innovative, work effectively with little oversight, and enjoy helping teach and guide others," said Straley.
According to Milwaukee BizTimes, "Milwaukeeis the second-best city in the nation for manufacturing, with a high concentration of diverse manufacturers and leader in manufacturing job creation in recent years."
Rentapen reports their number of requests for quotes has increased 4 times in the last 6 months and their customer base is growing.
"Some customers report having trouble getting all the weld fixture designs done in the time they have. Rentapen is a great resource for them as they grow in uncertain times," said Straley.
As a machine design and build firm, Rentapen can provide the weld fixtures and engineering talent to manufacturers without them investing time and money required to hire a new employee.
"We do the work so they don't have too. Our team is well educated and experienced," said Straley.
Rentapen is in the business of satisfying their customers' needs. It is only with the dedication to efficiency, excellence, and customer services by every team member can Rentapen retain their customers and fulfill their mission.