Rentapen Inc., located In Waukesha, WI has added a brand new free service to their website.
Rentapen is proudly introducing their 3D CAD Models. The 3D Models will be the new American standard for the Machine Designing Industry. Rentapen's new 3D models will change how Machine Design Engineers and CAD Drafters design their weld fixtures for the better. The 3D Models will greatly reduce machine design time.
Machine Design Engineers and CAD Drafters from the U.S. will now be able to go on to Rentapen's website and perform quick and easy steps to make a better weld fixture that will save them time and money without having to leave their chair.
The components are used in fixtures to help locate and hold the product that is being welded or assembled.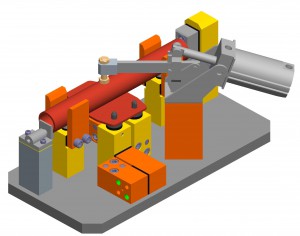 3D Models can be altered to meet your needs. For instance, RAPid Blocks™ can be ordered with only holes in one end. In the past, customers would buy the RAPid Block™ and then have to put it in their CNC or take it to another vendor to place a hole in it to hold a locating pin or a rest pad. Now Rentapen does it all. Saving costs, time, and hassles for manufacturers.
All of Rentapen's RAPid Tooling Components™ are made in the U.S.A. This is in line with Rentapen's vision as the U.S. Leader in machine design and tooling components.
"We have adopted the RAPid Tooling Components to design and build with because of the flexibility, durability and extreme repeatability that they allow us to have in the areas that require quick accurate dial-in," said Don, tooling manager at one of Rentapen's long term customers.
"Rentapen earns their customer's enthusiasm because we enjoy the opportunity to provide efficiency by design, expertise, and very convenient service," said Susan Straley, President of Rentapen Inc.
Rentapen is dedicated to reducing costs for manufacturers. And their new free 3D service will greatly help manufacturers continue on their lean journey.
"We are very proud to provide this time and cost reducing service. We invite machine designers to come play with it and let us know what you think!" said Straley.