Rentapen Inc., a small machine design company, stays positive during these difficult economic times, and thrives on being successful.
Have you ever heard the saying, think positive and positive things will happen? That is exactly what Rentapen Inc., located in Waukesha, WI is doing.
According to the Wells Fargo/Gallup Small Business Index Survey from the period of January 9-13, 2012, "America's small business owners are the most optimistic since July 2008."
President and Co-Founder of Rentapen Inc., Susan and George Straley, have been dedicated to their machine designing company and satisfying their customers' needs to reduce costs since 1976. They have continued to stay positive during these hard economic times and it has been paying off.
Recently, Rentapen has added three new customers and has stayed consist with their 3D design services for their current and past customers.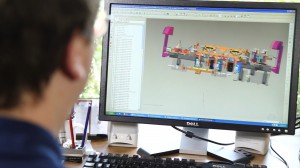 "More small business owners expect to add new employees (22 percent) than expect to let them go (8 percent) over the next 12 months," Wells Fargo/Gallup Small Business Index Survey.
Since April 2011, Rentapen has doubled their employees. Rentapen has added a Design Engineering Manager, Marketing Assistant, IT Programmer, CAD Drafter, and a Shop Maintenance Associate. Rentapen does plan on hiring another CAD Drafter Intern for their growing machine design engineering team.
Rentapen is dedicated to helping manufacturers reduce the cost associated with producing their product. This combination of service and cost reductions is attractive to Rentapen's customers due to the expanding workforce in the manufacturing industry.
"Being a business owner, my job is to look out at the future and see where we need to go to fulfill our mission of providing jobs in our community. Manufacturing is growing and we help manufacturers so our future looks bright," said Susan Straley.
Rentapen vision is to be the US Leader in machine design and tooling components. "We earn our customer's enthusiasm because we enjoy the opportunity to provide efficiency by design, expertise, and convenient service," said Straley.